Things to know before buying a Hassy
*Update
It's been more than a year and a half since I jumped into the world of Hasselblad V series cameras. A lot has happened since but one thing for sure is that my love for the V series cameras never changed.
I wrote the article below when I was in the market for one camera.
Now, I am ready to write something in-depth, which I hope will somehow convince you to get it as well. If you have any questions that you would like to ask about Hasselblad cameras, drop me a comment and I will incorporate it in my new entry.
In the mean time, do check out my article from 2011.
—————————————-
Over the weekend, I finally made the big jump into the world of Hasselblad cameras again.
This time, I got myself a Hasselblad 501cm, complete with a 150mm f/4 and two film backs.
Ever since I saw the Hasselblad V-series cameras in 2007, I fell in love with the classic and modular design of the camera. Fast forward four years later, I was finally ready to invest in one system.
So before shoving that thousand odd dollars into the pockets of the seller, I did my own research and compiled this list of things to know/consider before buying your own Hasselblad.
Know the model that you are buying
At the back of my head, there are these V-series models available in the market – 500C (cheapest), 500CM, 501CM, 503CW (most expensive), 503CXi, 200FE, 2000F, 205FCC and a few more. The 500 series are fully manual cameras without built-in metering functions, if you do not factor in the use of metering prisms. The 200 series on the other hand, has got metering functions within the camera.
The most common model of all and value for money is the 500CM. A quick check at local vintage photography stores and you will find that most models on sale are the 500CM. Sure, there is a cheaper alternative in the form of the 500C but the experts say that due to its old age (about 40 years old?), it is best not to get it because you will spend more money on servicing and repairing.
It is fairly easy to track the age of a Hasselblad camera. You just need to remember the magic word VH PICTURES, where each alphabets represent 1234567890 respectively. So if you have a model with a serial of serial (#RE556xx), it means that your camera was made in 1989 because RE = 89.
More info can be found on Karen Nakamura's page. She has done a great job explaining the differences between the various models.
*UPDATE
I came across this page on antiquecameras.net, which provided an excellent explanation of the various V-series models. Read for a better understanding of the various models available.
Know the lenses that you are buying
Like the various camera bodies available in the market, there are A LOT of versions for one focal length. The earliest type of lens which pairs up with the 500C are known as C lens (duh). Over time, newer models are introduced to the market – C T*, CF T*, CB T*, CFE T*, CFi T* where T* means six layers of coating to give fantastic contrast and colors.
Naturally the prices of lens increases based on the model.
Again, visit Karen's page for a small chapter on the various lenses.
*UPDATE
I came across this page on antiquecameras.net, which provided an excellent explanation of the various models.
"C" Lenses are single coated Carl Zeiss lenses with 1/500 to 1 sec Synchro-Compur shutters. Chrome finished lenses were produced from the 1957 to the early 1970's. The switch to black finish lenses starts about 1972.
"C" T* Optically & mechinically identical to the "C" lenses however, the lenses now feature the famous T* Mutlicoated surfaces. A red lettered T* is printed on the lens. Most users feel resolution results are similiar to "C" versions, but flare is much better controlled with T* coatings. Some Chrome finished lenses feature "T*" coatings, but otherwise all are black finished lenses.
"CF" Similiar to the C T* lenses, but shutter change to Prontor, and other improvements including handling/design changes. Lenses do not have self timers. FLE versions exist ( floating lens element ) for 40mm and 50mm.
"CFE" Basically CF lenses with an electronic databus connection with the Hassy 200 series cameras and the lens improvements listed unnder the CFI version.
"CFI" Basically CF lenses that are "I"mproved. Flare reduction improvements, design, shutter and other small improvements that were to "increase image quality, reliability and convenience."
"CB" Budget version lenses. Only 60, 80, and 160 lenses made. 80mm lens had one less element than the CF and less performance.
More info here.
Film backs
It has been said that every single film back ever produced was hand-adjusted to perfection. Therefore it is important to make sure that that dark slider has the same serial number as your film back. A dark slide with a mismatching film back has a higher likelihood of causing problems like light leak and stuff like that.
Again, Karen Nakamura has a section on this. Scroll to mid-section.
Prisms
Once again, there are numerous prisms for you to choose from for your V-series camera. The most basic of all is the waist-level finder.
While it shows you an inverted image, I personally feel that the experience of photographing with a waist-level finder is very different and special.
If you are not comfortable, there's always the 45-degree metered/non-metered and the 90 degrees metered/non-metered prism to choose from.
Again, say hi to Karen when you check out her page on prisms.
Buying
Buy online. Period. You save a lot more money than buying from the stores.
Try eBay or KEH.com. I am personally a big fan of KEH because of the large variety of stuff for Hasselblad.
Hasselblad Manuals
Things from Hasselblad don't come cheap and that applies to the manuals as well. However, get yours online at no charge here.
Loading film into the magazine
I found this really useful video tutorial on how to load film into a Hasselblad magazine. Even if you have some experience dealing with other brands of film magazine, do spend that six minutes on this video to get it right. Prior to watching this video I shot my first roll and realize I made some mistakes.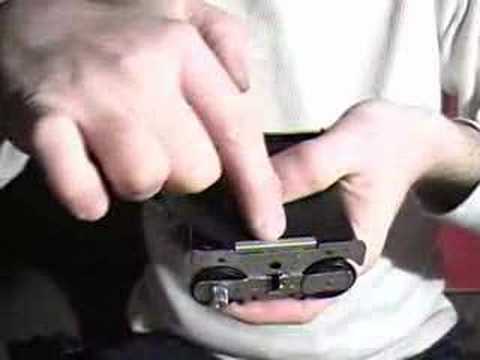 Learning how to check your camera
The following section is lifted off Mr David Odess' website. He is a master repairman for Hasselblad equipment based in the US. The techniques mentioned are based on his years of repairing.
Camera body: Remove the lens and magazine. Press the release button, and hold it in. While you are holding it in, check to see that both of the rear flaps are opening all the way. Now let go of the release button, and check to make sure that both flaps have closed completely.
Lenses: Set the shutter speed ring to one second, and set the f stop ring to the largest opening (smallest number). Look into the front of the lens and fire the camera. The shutter blades should close down, then open instantaneously, stay open for one second, and then close again. While you are watching this happen, check to make sure that none of the shutter blades are broken or appear to be out of place. Also, notice how long the one-second exposure actually is. You can pretty much tell how long one second is. If the shutter is dragging at one second, it is an indication that the shutter needs to be cleaned and lubricated.
Wind the body again, turn your strobe on, and attach the synch cord to the lens. Set the shutter speed ring to the fastest speed and set the f stop ring to the largest opening (smallest number). Point the camera and the strobe to a light colored surface, and, while looking through the back of the camera body, fire the camera. You should see a brief, large round flash of light through the lens. If you see no flash of light at all through the lens, check to insure that the "VXM" lever on the lens is in the "X" position (only on the older C lenses). If you see part of the shutter blades instead of a round flash of light, there is a problem, and that lens should not be used. Check each of your lenses using this procedure. If you are photographing a wedding, it is a good idea to perform this particular check each time you change film magazines.
For older C lenses only: Set the shutter speed ring to one second, and set the f stop ring to the smallest setting (largest number), and, while looking into the front of the lens, press the depth of field preview lever on the lens. When you press it in, the diaphragm blades should quickly snap closed. If they close sluggishly, it is an indication the lens needs to be serviced.
More to come
Just encountered some major problem at work and I need to settle it.
I am going to stop the article here. Will update more when I familiarize with my camera further.
Meanwhile check out what some peers have to say about the camera.
Ciao.
No related posts.
---
4 Comments
---
Leave a Reply